[COTM] Card of the Moment #5: Karma
Karma -  the spiritual principle of cause and effect where intent and actions of an individual (cause) influence the future of that individual (effect).
Somehow, this meant you were punished for playing swamps? *shrug* This is back when Black/White really wanted to reinforce the good vs. evil trope
Karma is a powerful, but very narrow card that wasn't good against most decks. How to make it good?
Hack the system!
Playing against a mono-green deck? Change swamps to forests, and you have a pretty fast clock.
Later on, Urborg, Tomb of Yawgmoth, made this an easier combo, although one that will also hit you, too.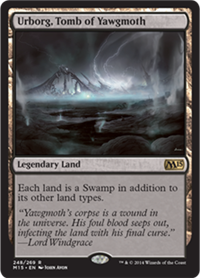 ---